Well, I blew it. I lashed out at my mother-in-law about politics. She reacted to what I said, and off we went. The horrifying thing is, I recognized the arrogant feeling of the words I was saying. It is the same arrogance that frustrates me so much when I hear someone else do it. It was a divisive spirit pushing me to get out the truth at all costs. But that isn't loving. That didn't come from God. Quite the opposite.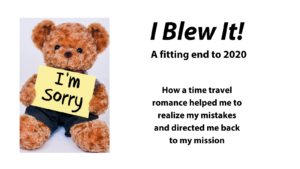 I spent several minutes apologizing, but the words I said will linger forever between us. Both of us have difficulty trusting each other. We've both been hurt before. I will never be able to pull those words back. And it makes me sad.
I also realized that just ignoring what is happening is not suitable for me. Because I will explode again unless I learn to deal with the mess that is our world. And I have to realize my place in it.
Who am I to advise others on how to live and how to treat their fellow humans? I am just a mom, a wife, a writer, and my sphere of influence isn't the same as a world leader.
I just finished reading a Christian time travel series by Amanda Tru. I started rereading the first three I had read several years before. But by the time I completed the last 3 (they are relatively short), I began to understand the books' real reason. Sure there were bad guys, romance, conflicts, but there were also prayers, deep soul searching, and the plans of God.
No matter how much I want to meld the two universes of facts, I don't have that kind of power. My power lies in doing what God has given me to do—encouraging hurting Christian women (and others). My motto is: Inspiring Hope, Encouraging Others, Love Richly, and Listen Well through Christ Jesus, my Savior. And I haven't been focusing on that very well.
Who am I to advise others on how to live and how to treat their fellow humans?
Three years ago, I succumbed to a deep depression. I wrote a sequel to the Planted Flowers series books, wrote a book on Compassion, Love, and Respect, and finished the Pray Specifically Journal. But I couldn't get them published. Each one of the three books needed so much more than finishing touches. So I concentrated on finishing the Pray Specifically Journal and the many moving pieces for a launch.
But, I felt dejected because I didn't get the other three done. I tried to let it go, but I mostly just stuffed my feelings. 
Next, my son-in-law became gravely ill and was in the hospital for a month. My daughter didn't want him alone, and I knew my grandson needed her at night, so I regularly spent the late evening at the hospital. Besides my worry for my daughter and her family, I had to shove down feelings of fear. My vehicle was a medium-sized pickup, and I had to drive at night (I don't see all that well at night). I had to arrive at the hospital and leave after dark. I spent most of my evenings finishing the details for the book launch. So I carried my laptop bag and purse with me everywhere.
Because of revelations during that time, my relationship with my son-in-law became strained. But I still went to the hospital and just stuffed down the feelings.
When he left the hospital, he moved down south to be closer to his doctors and stay with his parents. My daughter had to take time off work to take care of him and deal with my grandson, who became sick there because of allergies.
Then, my father died. Because of his dementia, I was grateful that he no longer suffered and was with God. I made plane reservations for all of my children and my husband to fly to Illinois for the funeral. I traveled alone with my bag, my computer bag, and my purse. I had to be there for my mom and my brothers. I shoved down my feelings and tried to write.
After the well-attended funeral where I talked with so many people (I'm an introvert), most of the family left. My mom and I relaxed and tried to move forward. I helped as much as I could. My son let me know my 17-year-old cat had gone outside and was missing now. He was not seen again. But I stuffed the feelings and moved forward. I only had a little bit of time with my mom, and then I had to fly home. 
I blew it! I can not take back the words.
Meanwhile, my husband went for a walk in a park and was nearly hit by lightning. He injured his leg, and my mom and I had to pick him up. We tried several things, but he needed to get back to work and fly home to do that. He was in such pain. He had to have wheelchair help to make his connecting flight. Before I came home, he went to the doctor eight times.
Finally, my time with my mom was over. I hugged and kissed her goodbye and walked away. I didn't want to leave her, but my other daughter needed me to help her with the dog and cat at her condo. I stuffed my feelings and flew out.
Ready for a quiet time, I tried to ignore worry about my missing cat. But I packed up and took the train the next day. When I arrived down south, my daughter picked me up and took me to the condo. She and my grandson moved in the next day. Her husband had been moved to a rehab that was closer to the apartment. My quiet time was not happening. I just stuffed my feelings down and tried to help.
At one point, my daughter had to return to work. She left back north, and it was finally quieter at the condo. The dog barked, but there was less to do. My quietness would only last a week, so I tried to relax and feel. But I wasn't doing a great job at it. When my other daughter returned, I had already agreed to stay with my son-in-law at his parent's house so his mom could work. I stuffed my feelings down again and tried to make the best of it.
Stuffing feelings leads to depression.
For three weeks, I stayed in their house for three days and spent the other four days traveling and at my house, each week harder was than the last. Finally, I apologized and said I needed to be home for a while.
It was nearing the end of May. My daughter started talking about separation. I attempted to work and keep up with my writing, but I just sat in my chair some days. I could no longer feel anything. Everything was wrong. The world, our country, my family, and I had no energy to pray.
We started a massive project at work, changing every distributor's website. It took me nearly a full year to work with the developers and begin the transition. I hired my son to help me. He got good at it.
My husband fell while hiking. He hurt his back but didn't realize it until the next year. A niggling pain became excruciating pain. He had to have surgery to fix it, and we worked to prepare for the surgery. So I helped with his day to day recovery, went with him to doctor visits, and helped him fill out forms and more forms. He did well and recovered fully, although he is still cautious of picking up too much or falling. 
After the crisis was over, nearly a year had gone by, and I realized I had very little work anymore. I documented all of the processes that I take care of so anyone could read them and perform them. Tommy helped me document by inserting screenshots. In that way, I trained him to do everything I do.
Now, I found out that I was depressed. I went to a doctor who started me on antidepressants. And things got better for a while, but I still suffered. I began a political outlet where I could express my views without judgment, mostly. And I started to wonder if I should get some help?
Next, I lost my Rua
Those were all of the big things that happened. But last September, the last cat I moved here with went missing. I'd lost all three of them. I asked for a kitten in October, and I got Felix. He is loving, needy, and active. But he is an indoor cat. All my walking outside had been with Rua, and she was now gone. 
So much loss. So many feelings stuffed down deep. And no time to try to sort them out. Depression is an odd duck. It is different for everyone because we are different, our experiences are different, and our support is different. My depression comes from doing too much for people I care about and not taking the time to feel. I have learned in the past year that I can't do too much. I have to ration my time. I have to sleep enough. I have to write out what I think. I have to say no to things that are not good for me. I say no to things I can't handle.
Trust God to fix things. Do my next thing.
It's embarrassing to be so much of an introvert and so anxious that being with people is too much. I cannot deal with crowds of people, even crowds who love me. Just pressing in of bodies near me becomes too much.
When covid hit, my life changed very little. My husband worked at home for a while, and my son no longer did the shopping. We had everything delivered. And I gained weight. I miss my other daughter. I want to see her and hug her. And I miss having the energy to play with my grandson all day. 
But what I found out in that time travel book was, I don't need to fix things. I need to trust God to fix them. And if I am in a situation where I need to take action, He will give me the strength, the words, and the finances to do it. He is in control. He knows what is going to happen, and He has prepared for it. He is not surprised by me and my failures. He has planned around them.
So all this to say goodbye to 2020. God will provide. I should do what He has given me to do. I can't fix the world, but I can pray.